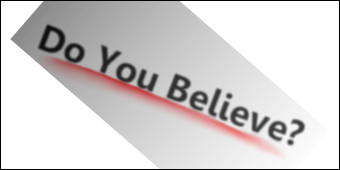 Fervently praised by some—heavily derided by others — Jesus Christ undeniably changed the course of history.  He is who He said He was or He was an utter lunatic.  Jesus did not claim to be just a good man.  He said that He existed from the beginning, that He was the Christ, the Son of God, that He had the power to forgive sins, that He would give eternal life to those who believe—in short, he claimed equality with God Himself.
Those who walked with Him told of miracles He performed: healing the sick, causing the blind to see, turning water into wine, telling the future, revealing the past, calming storms, walking on water, feeding thousands when food was scarce, casting out demons, raising the dead—even rising from the dead.
Now you have heard about Jesus Christ. You have heard some of His claims. And you are now faced with a choice (if you haven't already made one).  You can believe Him—or you can choose to deny Him.  Jesus Christ was not just a good man.  Good men don't purposely deceive others. Think carefully on your choice . . . it's a matter of life and death.
Free Bible study software: e-Sword.